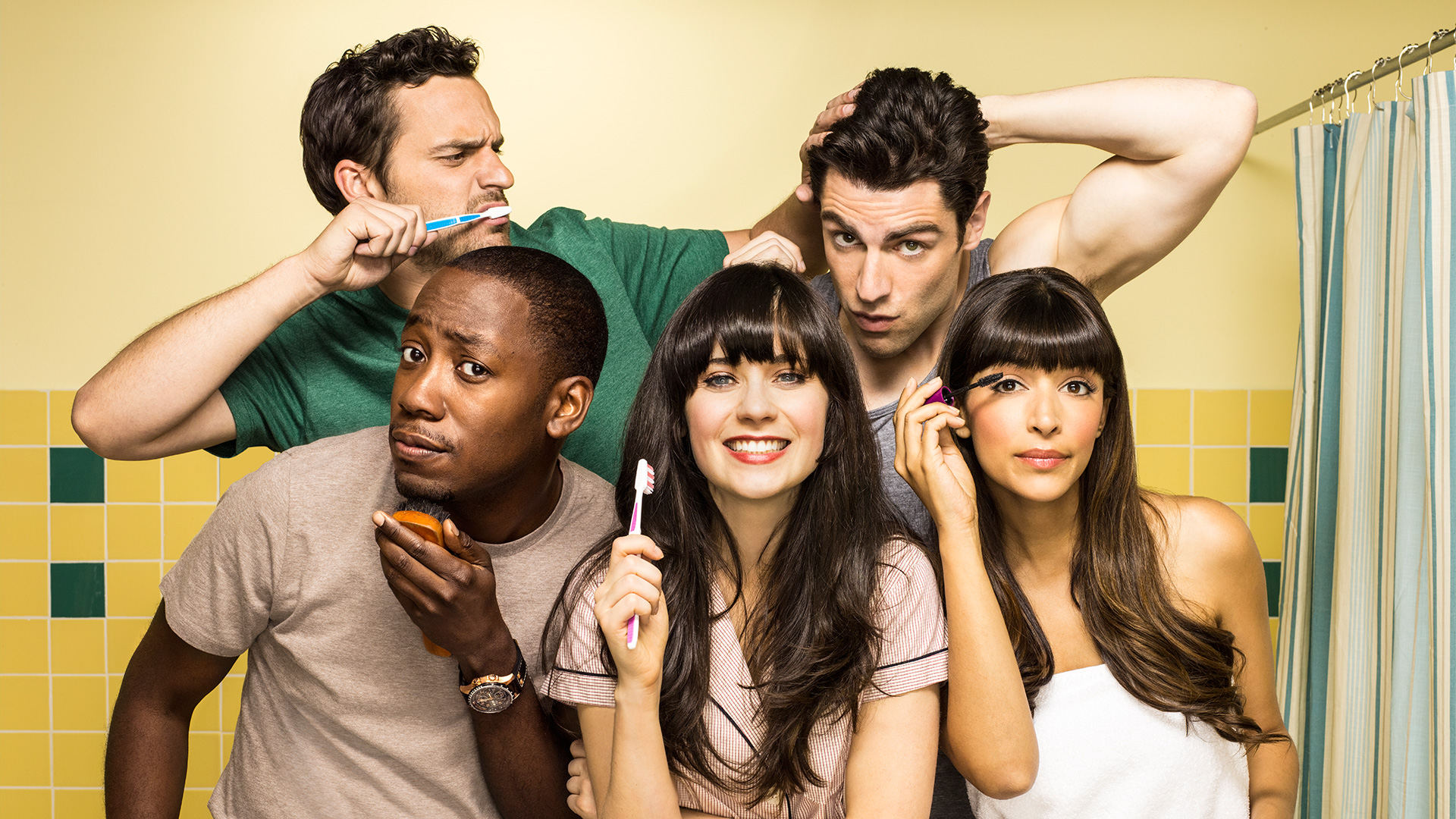 © FOX
Si has reconocido el nombre de la serie gracias a la imagen o al título de la entrada, enhorabuena, te acabas de convertir en una de mis personas favoritas en el mundo. Si por el contrario no lo has hecho, te invito a que descubras de qué se trata.
If you've recognised the name of the show thanks to the picture or title, congratulations, you've just become one of my favourite people in this world. If you didn't, I invite you to read more so you can know what I'm talking about.
New Girl es una sitcom Americana que fue estrenada en FOX el 20 de Septiembre de 2011. En ella salen Zooey Deschanel, Jake Johnson, Max Greenfield, Lamorne Morris y Hannah Simone. New Girl ha recibido buenas críticas desde que salió y muchos de ellos elogian la actuación de Zooey. La serie ha estado nominada para muchos premios, incluyendo cuatro nominaciones a los Golden Globe Awards y cinco nominaciones a los Primetime Emmy Award.
Esto es lo que la Wikipedia dice de
New Girl
a
grosso modo.
Probablemente los actoresque más te suenen sean Zooey Deschanel (
500 days of Summer)
y Jake Johnson (
No Strings Attached, 21 Jump Street)
pero el elenco en sí es extraordinario.
New Girl is an American television sitcom that premiered on FOX on September 20, 2011. It stars Zooey Deschanel, Jake Johnson, Max Greenfield, Lamorne Morris and Hannah Simone. New Girl has received some favorable responses from critics since its conception, many giving particular praise for Deschanel's performance. The show has been nominated for several awards, including four Golden Globe Award nominations and give Primetime Emmy Award nominations.
That's what Wikipedia says about New Girl. Probably, the actors that you may be more familiar with are Zooey Deschanel (500 Days of Summer) and Jake Johnson (No Strings Attached, 21 Jump Street) but the whole cast is extraordinaire.
La historia va sobre Jess (Zooey Deschanel), una profesora en un colegio que descubre que su novio de seis años la está engañando cuando vuelve a su casa para sorprenderle. Nada más saberlo, se dispone a buscar un lugar donde vivir cuando acaba con tres chicos en un apartamento gracias a un anuncio que vio en Craiglist: Schmidt (Max Greenfield), el típico cachas que parece que le falta alguna que otra neurona, Nick (Jake Johnson) a quien acaban de romperle el corazón y parece decantarse por la bebida y Coach, quien rápidamente sería sustituido por Winston (Lamorne Morris) quien regresa en el segundo episodio desde Letonia donde se dedicaba a jugar al baloncesto de manera profesional.
The plot is about Jess (Zooey Deschanel), a primary school teacher who finds out her long-term boyfriend has been cheating on her when she comes home early to surprise him. She decides to move in somewhere else thanks to an ad she saw on Craiglist with three guys: Schmidt (Max Greenfield) the jocky kind of guy who seems to be a bit dumb, Nick (Jake Johnson) whose heart has been recently broken and tends to drink a lot and Coach, who will quickly be substituted by Winston (Lamorne Morrs) who comes back from Latvia in the second episode since he was playing basketball professionally there.
Al principio la serie me gustaba porque me parecía entretenida y me gustaba sencillamente verla pero ahora que han pasado dos temporadas y la semana que viene estrenarán la tercera, estoy totalmente enganchada y para mí es mi serie favorita. Los personajes evolucionan, todo está absolutamente conectado y no hay ningún cabo suelto ni nada que sea demasiado irreal. Lo que más me gusta, además, es que muchos capítulos están basados en historias reales según la creadora Elizabeth Merriwether, quien ha admitido que se inspiró en ella misma para crear a Jess.
At the beginning, I just liked the show because I thought it was funny and I enjoyed watching it but now that I've gone through two seasons and next week they will premier next week the third season I'm absolutely hooked and it's my favourite show. The characters evolve, everything is connected and nothing seems unreal. Furthermore, what I like the most about this show, is that most of the episodes were based on real events according to the creator Elizabeth Merriwethr, who admited that she had inspired in herself to create Jess.
© FOX
PROS: La serie tiene cameos brutales (Taylor Swift sale en el último episodio de la temporada, por ejemplo) que dan mucha vida a la serie. Cada personaje es, a la vez, muy diferente. Pueden seguir algunos estereotipos pero por ejemplo, a simple vista, Jess es la típica profesora risueña, quirky & adorkable, que puede aparentar ser muy inocente y quizás tonta — pero es todo lo contrario. Se refieren a ella como una persona inteligente e independiente, fuerte también y su personaje no deja de evolucionar de tal manera que deja atónitos a los fans.
PROS: The show has amazing cameos (Taylor Swift starred in the last episode of the season) and give some kind of new outlook to the show. Every character is, as well, very different. They can follow some stereotypes but, for example, Jess seems to be the typical quirky and adorkable teacher, also seems naïve and silly — but it's totally the opposite. They talk about her like a smart and intelligent person, as well as independent and strong, and her character doesn't stop evolving.
CONTRAS: Los veinte minutos saben a poco. Sí, lo sé, no se puede hacer nada al respecto, pero me saben muy a poco. También, me pareció muy mal que el personaje de Coach desapareciese sin más. Me gustaba (aunque es verdad que siguen mencionándole, pero no ha vuelto a aparecer).
CONTRAS: An episode lasts 20 minutes and it doesn't seem to be enough. Yes, I know I can't do anything about it but I always want more! Also, I think that what they did to Coach was wrong. Whatever happened to him, I hated that he disappeared (although they still mention him)
© FOX
Así que sí: recomiendo al 100% esta serie. No sólo te garantizo que te reirás muchísimo, ¡si no que la trama se vuelve más y más interesante de tal manera que siempre te acabará sabiendo a poco!
So yes: I recommend this show 100%. I guarantee you not just a good laugh but also an amazing plot which becomes more interesting every episode. You will be so hooked!